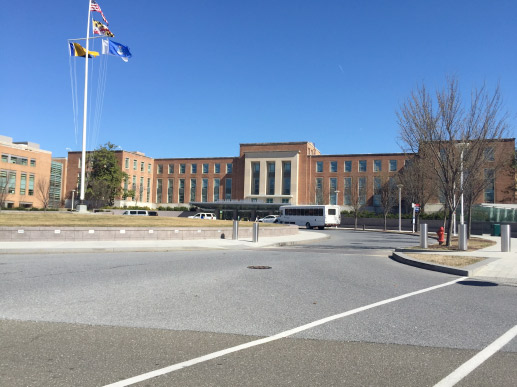 KIC's D.C.-area subsidiary Midnight Sun Technologies LLC (Midnight Sun or MST) recently completed a major building renovation for the General Services Administration on behalf of the U.S. Food and Drug Administration (FDA).
The 11,000-square-foot project included high-end architectural and technical upgrades to the FDA's Great Room on its White Oak Campus in Silver Springs, Maryland.
It was originated as a design/build contract by another 8(a) company, but that contractor fell out of compliance and could not complete the work. Midnight Sun was brought in to deliver the project after the design portion had been completed, but the construction start date was behind schedule. The project integrates a complete replacement of all audio-visual components, with theater lighting and architectural enhancements to bring the FDA's only public space into a "state-of-the-art" condition.
MST's contract required that the entire project be completed under very accelerated time constraints of only three months. "This was not the typical sort of project you would normally see at MST," says Midnight Sun Global Services president Elizabeth Koski. "Midnight Sun Technologies has two key service lines: integrated facilities management and information technology (IT). But given the significant audio/ video/IT component of the project and our collective KIC construction experience, this was a great opportunity, so we took on the challenge."
Tackling a large job on a short timeframe, she depended on Project Manager Robert Farkas, Assistant Project Manager Mark Berman and a group of local subcontractors, including Slye Digital Media Systems, EdgeKraft Acoustical Panel Company and T&B Electric, to bring it altogether. In addition, Eleanor Davis and a team from Alaska Universal Services (AUS) provided drywall and general laborers to the effort.
"Our subs have just been amazing," says Elizabeth. "When the first contractors were unable to perform the work, our team came in, put multiple crews on and worked long hours.
They were instrumental in turning this thing around. There's no way this project would be the success it is without them."
The results may be even more impressive than the process. MST constructed an elegant facility to host small or large gatherings that include complex audio/video presentations, often to introduce new pharmaceutical drugs and scientific breakthroughs.
"Virtually everything is automated," Elizabeth explains. "Advanced AV equipment, theater lighting, audio system. There's a Press Room, a Green Room for guest speakers and, at the heart of it all, the Control Room, where all the independent systems can be controlled at one console. MST integrated the FDA's central server-based, room-scheduling system so each room has an iPad display showing what is going on in that room. It's a very nice place."
Valued at $4.99 million, it's a very good contract for KIC. The fact that the work was completed successfully in just three months, including the Christmas and New Year holiday season, is a great testament to Midnight Sun and the entire KIC team that came together to fulfill a contract for one of our nation's largest and most important government agencies.
"Given all the challenges and compressed timeline, it's amazing the way everyone came together as a team and allowed this work to be completed so efficiently," says KIC President Will Anderson. "KIC shareholders can be very proud of what their company accomplished."
As a result of the team's success, GSA awarded Midnight Sun a follow-on contract for another construction project.
In the end, this FDA job is a terrific example of KIC subsidiary companies working together, collaborating with each other and sharing the profits. In other words, a very Inupiaq way of doing business.