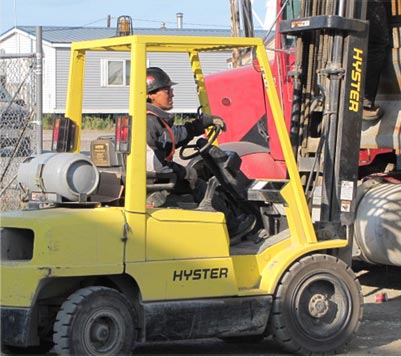 Working for Kikiktagruk Inupiat Corporation (KIC) offers a unique opportunity to grow with a national family of companies. We are committed to providing innovation and value to our clients and our shareholders. The corporate values practiced in our workplaces are founded on the traditions of our Inupiaq shareholders.
Competitive pay, exciting career growth and a commitment to professional excellence are just a few of the great reasons to join the KIC team. Native preference is given to KIC shareholders and descendants, NANA shareholders and Alaska Native applicants. KIC is a drug-free workplace and conducts both pre-employment and random drug and alcohol testing. KIC is an equal-opportunity employer.
Our employees take safety seriously
We practice good, safe work habits and follow all safety mandates, company expectations and regulations.
We wear and maintain appropriate safety equipment.
We maintain equipment in good condition with all safety
features in place when in operation.
We report all injuries and incidents to a supervisor immediately.
We share best practices and offer suggestions for improvement.
Current Job Openings
Click here for current job openings at KIC and throughout our family of subsidiary companies. If you have questions, please contact us via email hr@kikiktagruk.com or call (907)442-3165 fax number (907)442-2165.
If you are unable to complete the application online, please submit a paper application using our Employment Application Form to hr@kikiktagruk.com, in person or by mail at P.O. Box 1050 – 373A 2nd Avenue, Kotzebue, AK  99752
KIC applicants have rights under the following Federal Employment Laws:
---
Current employee login
If you have questions and would like to talk with our Human Resources team, please contact the Kotzebue office at hr@kikiktagruk.com or call 907.442.3165.