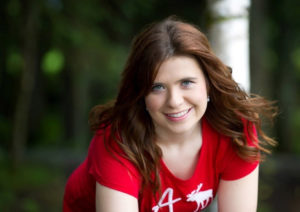 Young KIC Shareholder descendant Paige McConnell hopes to soon be a teacher at June Nelson Elementary School. She is using a KIC scholarship to study for a bachelor's degree in elementary education remotely through University of Alaska Fairbanks while living at home in Kotzebue. But when Paige graduates and shows up for her first day as a new teacher, one of her coworkers will be a very familiar face: her mom.
In fact, it seems a bit like destiny that Paige should become a teacher at June Nelson Elementary. The school was named after her paternal grandmother, who was a long-time member of both the Northwest Arctic Borough School Board and Alaska State Board of Education and a well-known activist for strong education and healthy communities in Alaska.
Paige's mother, Cathy McConnell, has been a teacher for 24 years and is nearing the end of her career. Paige hopes to finish her degree and spend a year or two working with her mom before she retires.
Paige's maternal grandparents, Ed and Donna Werneke, were also educators for the Northwest Arctic Borough School District in the late 1970s. Her grandmother was a high school teacher both in Selawik and Kotzebue, and her grandfather was a school principal in Selawik and director of the technical center in Kotzebue.
"Growing up with a parent who's a teacher, I always had high expectations put on me," Paige says of her mother. "She made sure our homework was done every day and we were keeping up with the grades. So it's nice to be able to pass on the lessons and work ethic I learned from my mom to the younger children as I become a teacher myself."
Paige was in her senior year at Kotzebue Middle High School when she began looking for ways to pay for college.
"In our region, there are so many great resources out there, with businesses offering helpful scholarships, KIC being one of them," Paige says. "Really, it just takes time to apply. A lot of kids don't take the time to write an essay or do whatever it is you have to do for the scholarship protocol and get it turned in on time."
Paige is in her senior year of college now and will soon be starting an internship with a fifth-grade teacher. She advanced through college so quickly because she has never taken a semester off and, in fact, has been on a graduation fast track, taking classes not only during the regular semesters but during summers, too. Clearly, Paige has embraced our Iñupiat Ilitqusiat value of "hard work."
In addition to KIC, she credits the support of her family and fiancé, Christopher Jones, for enabling her to pursue higher education. Paige is a wonderful inspiration to our young Shareholders, not only because of her drive to achieve her goal of becoming a teacher, but because she reminds us that there are resources available to our youth for college or trade school.
As Paige says, "All you have to do is apply. The money is there for you to pursue your dreams and education goals."
Paige is a perfect example of how our Native corporation works to develop local young people to become professionals who, in turn, benefit future generations.
"I tell them, 'I am definitely committed, and I plan on living and working here for the next 25 years. I want to give back to my community.'"
Congratulations to Paige – and her family.